Today we are going to visit Totan Kuzembaev, a legend of Russian architecture. We wrote about the MakalunHouse designed by the honored maestro, and today we'll talk about the architect's own home.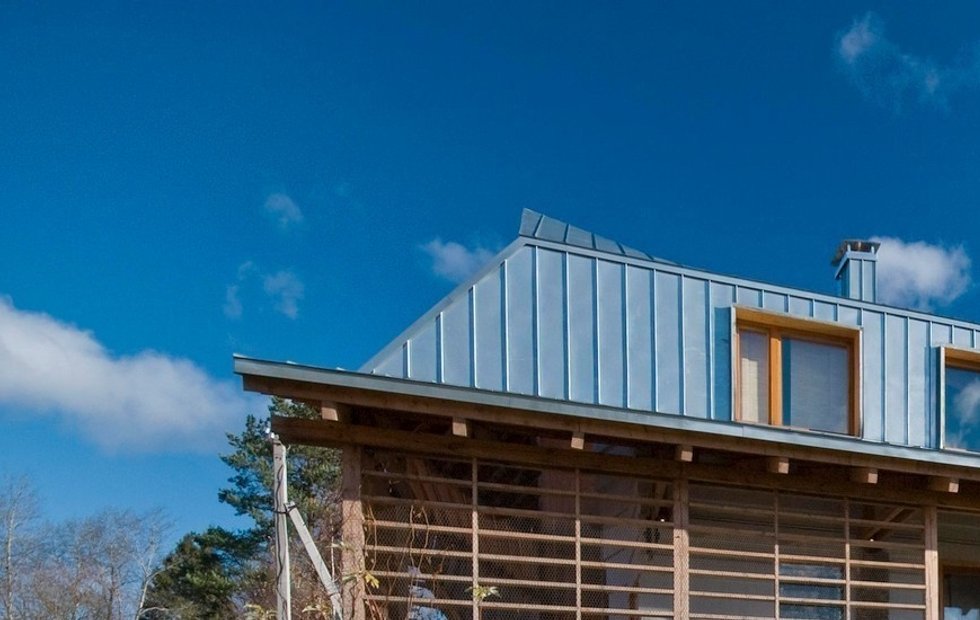 Today we are going to visit Totan Kuzembaev, a legend of Russian architecture. We wrote about the MakalunHouse designed by the honored maestro, and today we'll talk about the architect's own home.
His 240 square meter house is located in the village of Novaya in Solnechnogorsky district. It is sheathed with zinc-coated sheets (supporting structure is a gas silicate block), which makes it look unusual. The curve roof of the house, which breaks the space and stereotypes, makes it original.
TOTAN'S HOUSE IS AN EXPERIMENTAL LABORATORY, WORKSHOP AND GALLERY SIMULTANEOUSLY. HERE HE LIVES, GAINS INSPIRATION AND CREATES. READ ABOUT THIS AND MUCH MORE LATER IN OUR INTERVIEW.
Totan Kuzembaev was born in 1953 in the Arys region of the Chimkent region (Kazakhstan). His first architectural project, which he implemented personally, was the construction of a parental home at the age of 15 years.
In 1982, Totan graduated from Moscow Architectural Institute with a degree in urban development. He has accounted for about 20 solo exhibitions. He has participated in more than 30 international competitions and international professional exhibitions in Milan, London, Oslo and Cologne. Among them are the architectural biennale in Venice (2008), where Totan presented the installation "Nomad's Yurt".
Interest in constructivism, bold experiments with materials and form, and, as the author himself claims, intuition – these are the components of the architect's creative concept.
After working at the country's leading architectural enterprises, Totan Kuzembaev organized his own workshop. Its opening took place in 2002.
Totan is a member of the Artists Trade Union and the Union of Architects of Russia. He was awarded the Bazhenov Medal for Architectural Excellence.
About style
Like in my other projects, I use my own style. A house is such an experiment for an architect. An architect like a doctor must experiment with people and himself. A house is not just a place where he lives comfortably – he is also trying some ideas of his own here.
About experiments
At first, I experimented with a staircase. There was not enough space, so I made an unusual staircase, when one step has two heights. It is very easy to walk upstairs, but it was dangerous to go downstairs. At first, all my family members said that it was inconvenient, but now everyone understands how comfortable this design is.
The second experiment is the comb of the house. It has a zigzag shape. Usually the comb of a house is straight, passing along the house axis, but in my case it passes in a zigzag pattern. Because of this, the house volume breaks. This creates an effect of a humpbacked house. Inside the form also breaks, it becomes sharper.
Another experiment is glazing to the floor. Although, perhaps, this is not new for world architecture, but for ours it was really an experiment, because our people feel embarrassed that they will be watched through such windows.
In addition, I made a long and wide terrace under a canopy along the house This is the southern technique. When I did it, the neighbors told me "Why do you need it, here is not the south?" Now all my neighbors want such terraces, one has already built it, and the other is going to do it. I experienced all these tricks on myself and exemplified that these things are also relevant here.
About inspiration
It is unknown and curiosity how this will end. The process is always interesting when you still do, think out or see it. First, images appear in the head, and then they take shape in the form of drawings and layout. After that the model is created. All this is a very interesting process.
About color
The house was built using natural materials such as wood and stone. That is why the colors are all restrained, natural and classic. All bright colors are used as accents, in accessories.
About light
There is a lot of natural light. The windows are correctly set in a checkerboard pattern so that the light passes at different times and the room is light. Naturally, there are always several lighting scenarios such as top or bottom, but I was not interested in this.
About furniture
Most of the furniture in the house is made with my own hands. It can fold, become larger or smaller. There is pea furniture. A house is such a laboratory, everything there is done by hand or adapted. There is nothing expensive there. Everything is very utilitarian and functional. Some furniture was bought at IKEA.
About textile
I don't like curtains. We have no curtains on any window, only in the bathroom on a large window, but we don't close it. As for the pillows and other items, everything is minimalistic and restrained. There is no brightness, fringe, pretentiousness or ornaments. Everything is very neutral and plain.
About decor
Since the house serves as an art gallery, the decor is my paintings made of different materials such as newspapers, peas, boards. There are fine monochrome and color graphic arts.
Pictures by Totan Kuzembaev
Difficulties and deadlines
When you build a house for yourself, you are an ideal customer: you know your capabilities and desires. The difficulty was keeping within the budget, which was very modest.
I built this house for 3-4 years. It was a rather lengthy process, and it is still not finished. I think I'll work on it and remake it all my life. My house is such an experiment, a laboratory where something is constantly happening.
About bathhouse
I specially built a bathhouse separately. It is located on the other end of the site so you need to leave the house to get into it. It's bad when a person comes home and sits or lies there all the time, and everything is so close to them. We need to move that is why I located the bathhouse separately from the house.
Workshop
I have a workshop that also stands separately from the house. Here I can saw, plane, create something with my hands.
Success formula from Totan Kuzembaev
Love! Love your children, grandsons and granddaughters. Work and not repeat, not be afraid of anything. Go ahead. Many people are afraid of something new. You should not be afraid of it. Each person must create their own environment, rebuild from themselves, and not live on other people's ideas. 
House plan
Wishes to novice architects
Choose your own way, not the other people's one. You should never turn off it. If chose it, you have to stay and not be afraid to experiment, not to be afraid of the new. Architecture like hockey does not like cowards, only the brave ones!
Photographer: Ilya Ivanov
Источник:
https://www.inmyroom.ru/posts/6058-geroy-inmyrom-laboratoriya-eksperimentov