One of the main Moscow industrial design bases is located in the neo-Gothic factory. The Moscow Electric Plant began to be built in 1915. First, it was supposed to be the Partnership of Russian-French factories "Provodnik". It was a large company manufacturing rubber products. The revolution prevented the implementation of these plans. Ten years later, when the building was completed, it housed enterprises producing electric lamps. Katyusha were made here during the war, and, since the 1950s, transformers and reactor equipment for power lines have been manufactured. Today, some premises of the old building are given over to creative workshops, architectural offices and photo studios. Most of the time, the wide corridors of the Electrozavod are deserted. The most important things are happening behind the numerous doors. Archpole's production and showroom has been located here since 2012 and has evolved from a workshop to a real laboratory where new ideas (not only in the field of industrial design) are created and developed.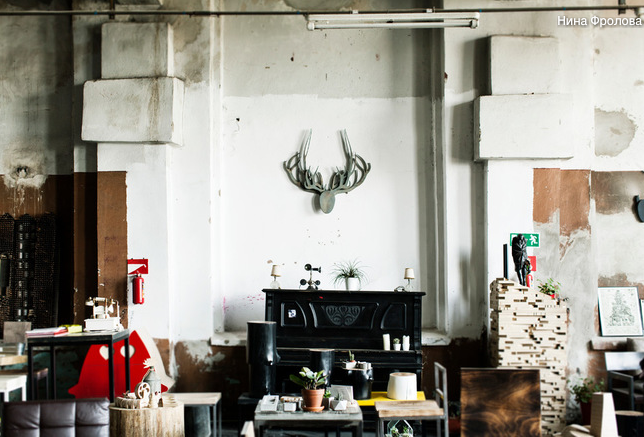 About the project
Address: Moscow, st. Elektrozavodskaya, 21
Size: total area of the studio – 160 sq. m, ceiling height – 5 m
Years of construction: from 1915 to 1928
Who works here: Archpole Architectural and Industrial Laboratory;
Main job profile – architecture and product design
Founders: Anna Sazhinova, Konstantin Lagutin and Tom the Cat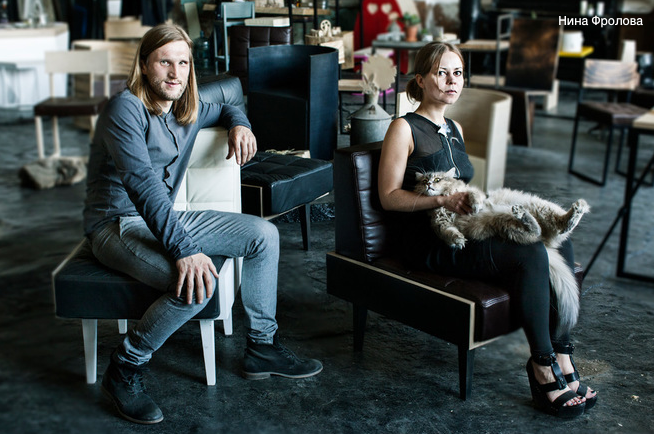 Konstantin: "We are architects; we have an architectural education and ideology. We look into industrial design through this perspective. Our furniture is primarily oriented to ensure that items create and complement space, as well as continue and develop our architecture."
Anna: "When we started in 2008, we made small interiors. Everyone starts from this, but in reality there is as much architecture in them as in large ones. It depends on how you look at it. We treated design not as a process when you select furniture from catalogs and arrange, but tried to make architecture and furniture be one and the same. We wanted to find just a chair, just a table, some things that are not screaming, but laconic and faceless ones with feelings. So, it became important to create a constructor, not a design. When we made our first items, we realized that it is possible to form architecture from such furniture."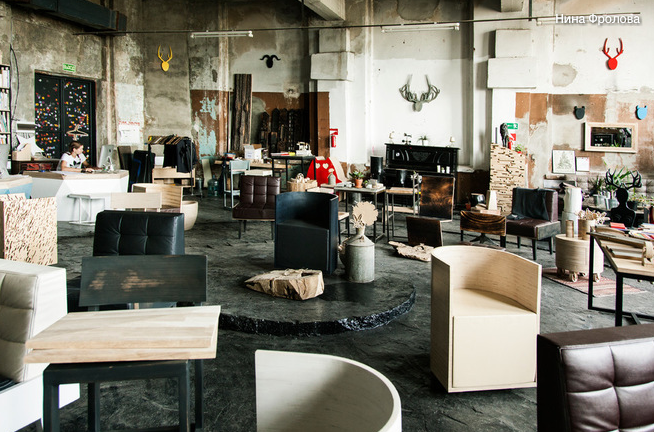 Konstantin: "Initially, it was a certain concept and feeling. Now, for our company, architecture has become a space for creativity. We went from working on order in architecture, working with the customer. We began to build conceptual areas that we often do for ourselves: our showroom, our production, our home. This is always a kind of aggregated image of our current world view.

Our collection of 400 items and furniture elements was formed precisely due to the fact that we created things for a certain interior in order to shape the architecture, after which they were transformed into collections that combine the space of our showroom. They all overlapped with each other and enable people to create within their homes."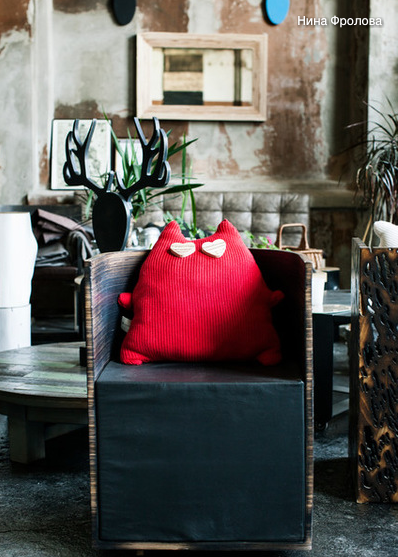 Konstantin: "There is a lot of typical architecture in Moscow and in Russia as a whole. The essence of our approach is to make design accessible so that grandmothers and ordinary families can buy it, so that design is in every home. Designed spaces also have this construction function. People using our examples can make an apartment without contacting us but simply realizing the idea on their own."

Anna: "Our favorite item is a chair from the Full Moon collection. On the one hand, it is very plain, but we have brought it to a certain ideal and made it our most popular product. On it, our team worked out serial production technologies, and today it is the most affordable designer chair on the Russian market."

Konstantin: "It is our favorite item by design and minimalism, but it is also important that the technology of its production makes it possible to develop the global idea that Archpole has."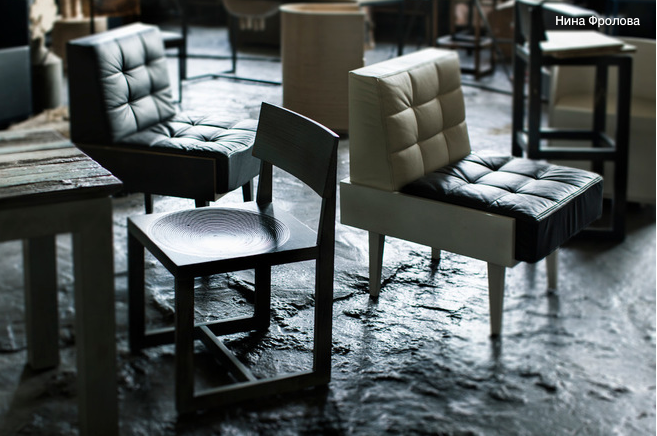 Konstantin: "We also have a cat, and he is a member of our team. All cats love this chair because of the shape of the bowl; in all the photos of this item from the buyers who have cats, they are sitting on it. One way or another, cats are always with us. Our furniture has a signature: logo, date of publication and master's signature of the on the cat figurine. Behind each thing there is a certain person who made it. Even if it is serial products, but they are always individual; it's not a machine, but the work of people."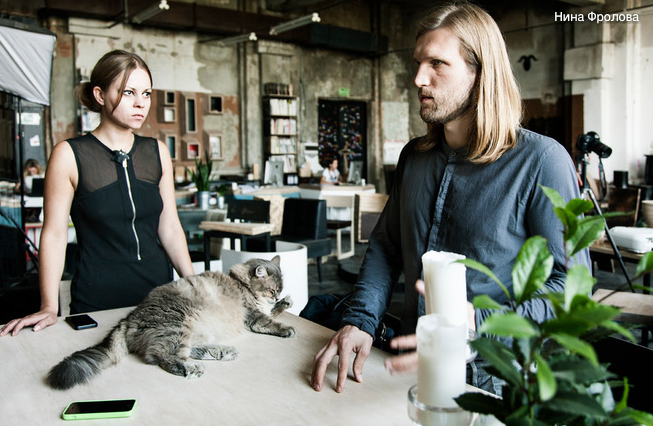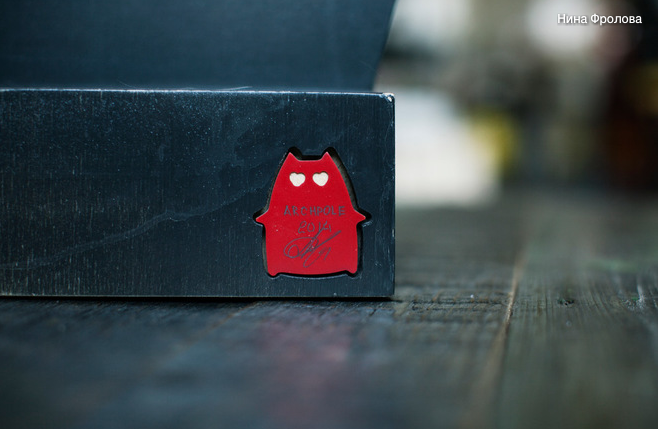 Anna and Konstantin met in the last year of Moscow Architectural Institute. Anna studied urban development, and Kostya studied housing construction. His diploma had already been an independent project of their joint architectural bureau. It was made by the whole team.

At that time, the first team began to form. According to the guys, there was no one left from that team. Some left, because the ideas of the founders of the laboratory seemed utopian to them, others did not agree with the line. According to Konstantin, the regularity is interesting that so many of those who worked in the first team have now created their own companies and produce wood product design, and Archpole is their guideline.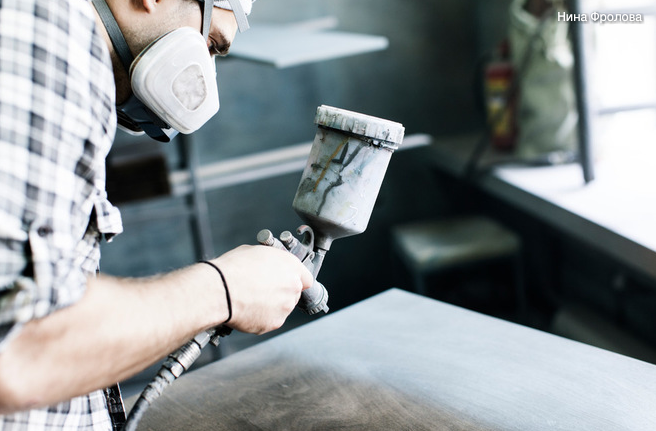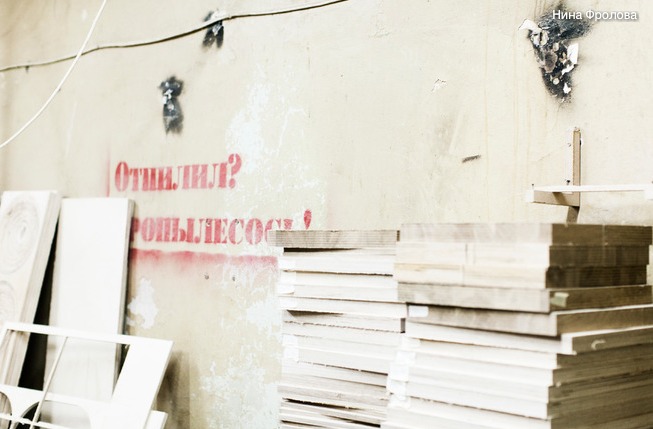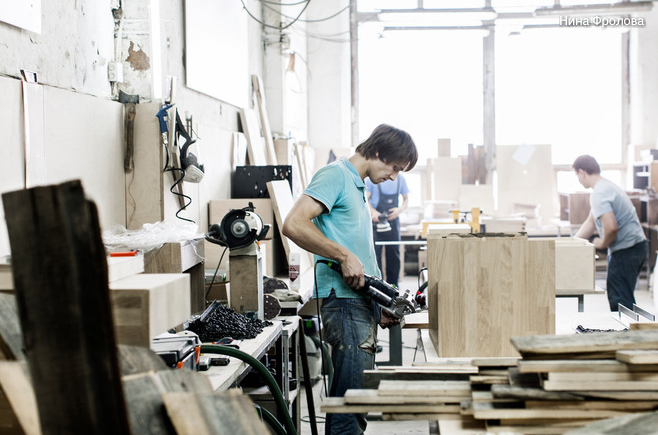 Konstantin: "We were initially guided by the principle of lack of investment. On the one hand, this does not allow us to take any big steps, but on the other hand, it enables genuine and systematic development. It was hard for us for the first five years. We did not leave the workshop all day and night. Sometimes we couldn't pay people their wages. It was a difficult and long period. It was our own way of trial and error, but we learned everything. For us, this is not only a commercial story; we can say that furniture production is a not cool business, but rather more an ideology." 
Konstantin: "Now we were able to breathe and we do not work 24 hours a day. We have not to work with our hands but to think more. Physical labor is not as problematic as coming up with new ideas and giving the team inspiration and freshness of thoughts. That is, we switched to a different level of work. I sleep seven hours, the rest of the time I continue to work. The bottom line is that there is no work as such, but there is life that is being lived."
To date, the Archpole collection has 400 items. In the showroom, products of Russian designers and private workshops from different cities, such as Kazan, Yekaterinburg, St. Petersburg, often appears. Archpole created the Club of Industrial Designers to unite everyone who works in the field of product design in Russia today. The Club regularly arranges trips to Russian cities called design landings in order to meet colleagues and exchange experience.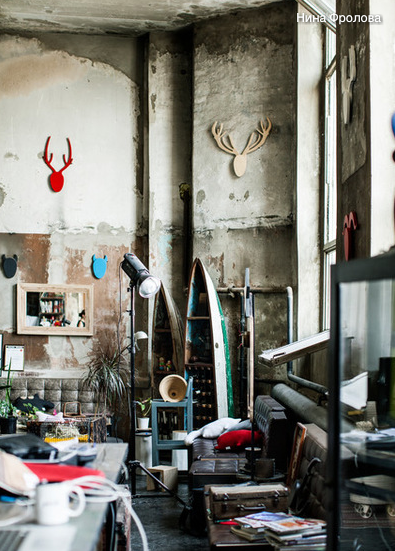 Konstantin: "The village project is our most basic lyrical story. The dream of any architect is to build the perfect city. At some point in the very beginning we got a project for the restoration of a village in the Vologda Region. We started working on it and realized that it was our case. The project included an important point for the restoration of small-scale production in the village, not just architectural reconstruction and renovation.

The project was not implemented due to the 2008 crisis, but work on it switched our minds and became our dream. We thought about it for a long time and decided to open our production there. To many of our team members this seemed like a utopia and a pretty crazy idea. Seven years have passed, and two weeks later we go to Vologda and begin the first stage: the reconstruction of the old office building, which should become the first headquarters of Archpole in this village. There will be several hotel rooms where specialists will come. They will establish our production there. Then we will open an office and a showroom where events of public importance and presentations will take place."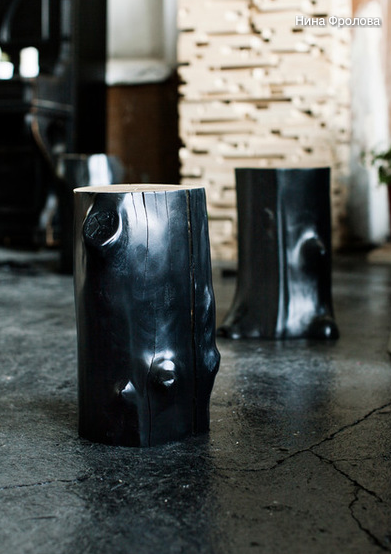 Anna: "Next year we plan to start building our first production. It will be small, maybe 500 square meters. We really want our entire Moscow history (volumes and orders) to be produced in this village. In Moscow, we want to leave only a certain experimental laboratory. Two weeks ago we were in Austria, in the village of Andelsbuch, there live 1,000 people, 4,000 cows and 100 designers. They all come up with crazy things, try to preserve folk crafts and exhibit their items in the building designed by Peter Zumthor. In fact, this is a certain message for us that our idea is possible and it already has existing examples. We came to Austria in a workshop format and formed a program for the next year: the workshop will be held in the Vologda village for a week, for a week it will be in Austria, respectively, the office that we are currently renovating will become the center of this festival. This is the story."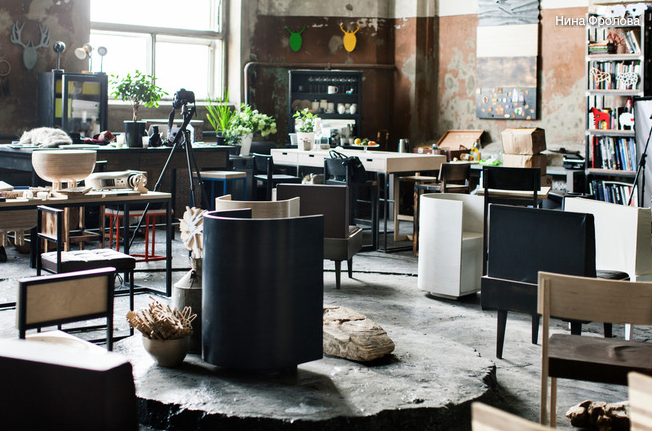 Konstantin: "In our architectural projects, we create a concept of life, a concept of furniture, a collection of items. At all the facilities that were finishing, we began to arrange open days: within 5 days everyone can come, hear a story about this architectural object and ask questions. After all, the history of private architecture is such that the project is over, the photographs are taken and then no one can look at it, except for the owners and their relatives.

We had a slogan – Architecture and Space for Creativity. During these open days in the evenings we began to do mini-events. For example, clients were preparing dinner in their new kitchen. Dinner was the idea that architecture is interesting during the action, in the way how it lives with a person, how you walk in it in a bathrobe, and how you interact with it. Pictures on Facebook are not architecture."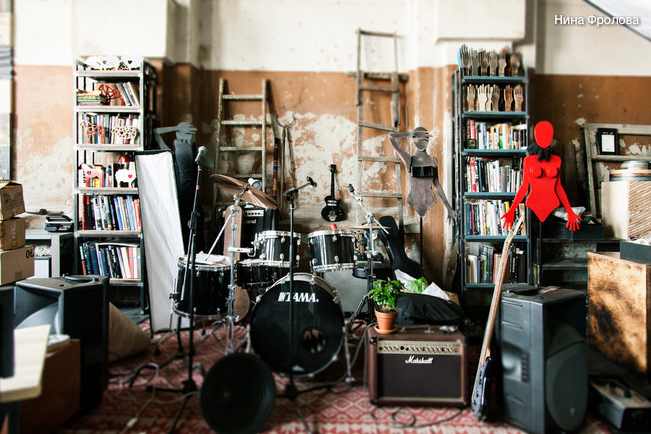 Konstantin: "At some point, we realized that we lack music and there must be something that continues and saturates our architecture. It turned out that some of our friends were playing something, someone was studying music at school, and, of course, everyone was listening to music on headphones. We gathered a collective and called it Archpole Musical Collective. We started rehearsing, and now there is a musical day at all the events. We organize concerts, I am a producer, Anya is an art manager. Now we are preparing our fourth performance, the three previous ones were large-scale, 300 people each.
Music is a chance to relax. For us, rehearsal is also an exchange of information. Friends gather, we invite interesting interlocutors, tell each other news, share information and what we read. In such an atmosphere, when no one is under pressure, our music grows, and the final point is a concert in our architectural project."

Ссылка на статью: http://www.houzz.ru/ideabooks/53006614/list/portret-arhitekturno-proizvodstvennaya-laboratoriya-arch…